Villa Borgonuovo is located just ten minutes from Cortona right in the heart of Tuscany, between Florence, Arezzo, Siena and Perugia.
From its privileged position, the Villa overlooks the entire Val di Chiana where the green tobacco and corn grows and the sun heats the ground while the brilliant gold of the sunflowers and grain gleam.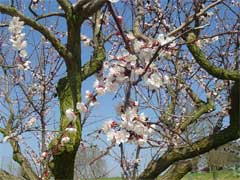 The completely stone and brick structure of the Villa dates from the 18th century: not only can you enjoy its gardens of roses, lavender, rosemary and fruit trees, you can admire the enchanting colors and profound silence of the Tuscan country-side.
The swimming pool, with its lounge chairs and umbrellas, offers a vista of the surrounding valley while providing the perfect frame for your summer holiday.
The Villa has been recently remodelled and equipped with air-conditioning and heating. The interiors are decorated in a provençal style with soft colors and decorated wood furnishings that will make your holiday comfort unforgettable.